From one car lover to another.
Or, more accurately, from one car lover to lots of others. SILO Auto Club & Conservancy was conceptualized by Indy resident Mike Simmons when he couldn't find a place to store his collection of classic, exotic and luxury cars. It didn't make sense that Indianapolis, the Racing Capital of the World, had no secure, upscale vehicle storage… so we decided to fill that void! Mike has since put together a team that is dedicated to giving members an unparalleled experience, whether they're storing their treasured cars, looking to join a society of like-minded gearheads, or planning a unique event that's sure to be remembered. Our staff is always ready to chat, give tours, or answer any questions you may have.
You wouldn't know it to see his unique BMW collection, but Mike's passion for cars actually started in his dad's garage, rebuilding American classics. His favorite, a '69 Camaro, solidified his love, not just for muscle cars, but for pretty much anything on four wheels. Down the road, Mike's focus would turn to unusual and exotic sports cars, and his personal collection would grow to more than two dozen, including everything from a '63 Corvette owned by his father, to a '69 Lamborghini Islero and a '65 Griffith Model 200, just to name a few. Mike's inspiration for SILO came when he moved downtown and needed a place to store his collection. He realized that any facility large enough to hold his own cars would also have room for the prized possessions of other car lovers, and an idea was sparked. Mike loves to talk cars, and if you love cars, he'd love to talk to you!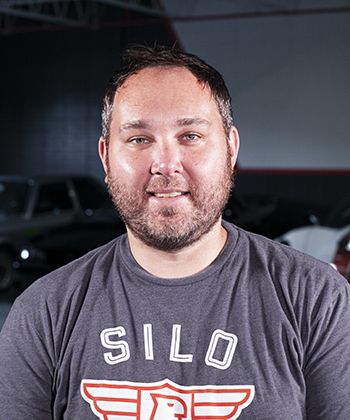 Jeff has a deep and abiding admiration for cars of all types (though exotics are his favorite), but his real passion is for hosting unique events and showing everyone in attendance an unforgettable time. He brings nearly two decades of experience as manager at the Country Club of Indianapolis, where he turned his love of sampling Indy's cuisine culture into a career bringing the best of the city to its most discerning residents.
Father to little Oliver and a longtime friend of the Simmons family, Jeff knew he couldn't pass up an opportunity to bring his expertise, drive and vision to SILO. He sees SILO as something totally unique to the downtown scene, and believes there's an untapped market who've been waiting for something like this: part storage facility, part social club, part event venue… and wholly different.
Jeff sees SILO as a bit of a functional museum — a place car owners can not only safely and securely store their vehicles, but also display them to admiring event guests and other car lovers. With downtown living experiencing a major boom, Jeff says SILO offers its customers something they've never had before. And with a thriving downtown culture, SILO fills a gap that, in this motor-loving city, has been empty for far too long.
Jeff's goal is to cultivate a space in which car lovers will feel at home, transforming the social club into the place to be for a quick lunch, an off-site business meeting, or after-work shop talk. As for the event space, he wants to see it become the premier location for everything from reunions to weddings to conferences and more. "There's a wow factor," he says, "whenever people walk in. There's so much potential here, and I'm up to the challenge."