From one car lover to another.
Or, more accurately, from one car lover to lots of others. SILO Auto Club & Conservancy was conceptualized by Indy resident Mike Simmons when he couldn't find a place to store his collection of classic, exotic and luxury cars. It didn't make sense that Indianapolis, the Racing Capital of the World, had no secure, upscale vehicle storage… so we decided to fill that void! Mike has since put together a team that is dedicated to giving members an unparalleled experience, whether they're storing their treasured cars, looking to join a society of like-minded gearheads, or planning a unique event that's sure to be remembered. Our staff is always ready to chat, give tours, or answer any questions you may have.
You wouldn't know it to see his unique BMW collection, but Mike's passion for cars actually started in his dad's garage, rebuilding American classics. His favorite, a '69 Camaro, solidified his love, not just for muscle cars, but for pretty much anything on four wheels. Down the road, Mike's focus would turn to unusual and exotic sports cars, and his personal collection would grow to more than two dozen, including everything from a '63 Corvette owned by his father, to a '69 Lamborghini Islero and a '65 Griffith Model 200, just to name a few. Mike's inspiration for SILO came when he moved downtown and needed a place to store his collection. He realized that any facility large enough to hold his own cars would also have room for the prized possessions of other car lovers, and an idea was sparked. Mike loves to talk cars, and if you love cars, he'd love to talk to you!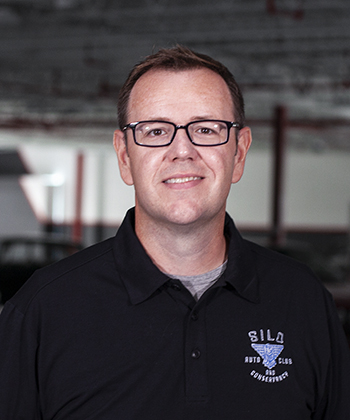 Ben Younce
General Manager & Curator
Ben's history as a lover of automobiles stretches back as long as the history of the Indy Motor Speedway… and even farther. His great-grandfather worked for the National Motor Vehicle Company, a car manufacturer in operation in the very early 1900s. One of the company's founders would go on to invest in the launch of the IMS. And the rest, as they say, is history. For Ben, that history runs as strong in his veins as his DNA. He purchased his first car at age eleven, with some help from his father, and hasn't looked back. Though his interests shifted to vehicles of the foreign variety, his family's connection to America's car culture never wavered. Ben is passionate about cars, of course, but he's even more passionate about the way that cars seem to bring people together – to network, connect, inspire and unite. That's why Ben is thrilled to lead the charge as SILO's general manager & curator. He shares founder Mike's dedication to the car community, his love of BMWs, and his excitement to bring Indy's car lovers together in a shared space unlike any other in the region.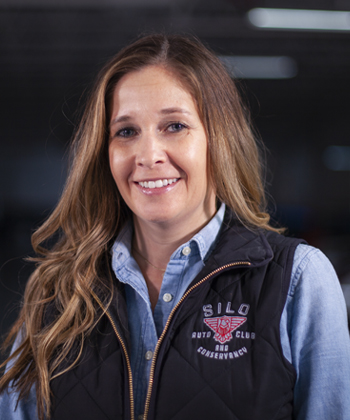 Angela Dant
Assistant Manager
Angela has gotten used to responding to people who tease her about "letting" her husband buy a 2004 Mustang Cobra. "It's actually my dream car," she tells them. "He let me buy it."
Angela, a PR whiz, wife and mother of three has been a car enthusiast for years, and when she first stepped foot in SILO, she knew she was home. She and her family attended a Cars and Coffee event in July, 2018, and she was so taken by the company's vision that she reached out to Mike with a proposal. If he would hire her, she would leverage SILO's unique space and concept to bolster event booking and member programming.
Angela's passion for the car-loving community drives her to explore the limitless possibilities and opportunities to make SILO the premier upscale car storage facility and event space in Indy. "The reason I love the concept of SILO so much," she says, "is that there's such a sense of community among people who love cars. But there isn't a concept like this. It's a unique place and it's exciting to me because the sky's the limit. We can listen to members and car lovers and discover what they want out of a place like this. I'm so excited to see how it will grow."